CNC MACHINING, INC. IS ISO 9001:2015 CERTIFIED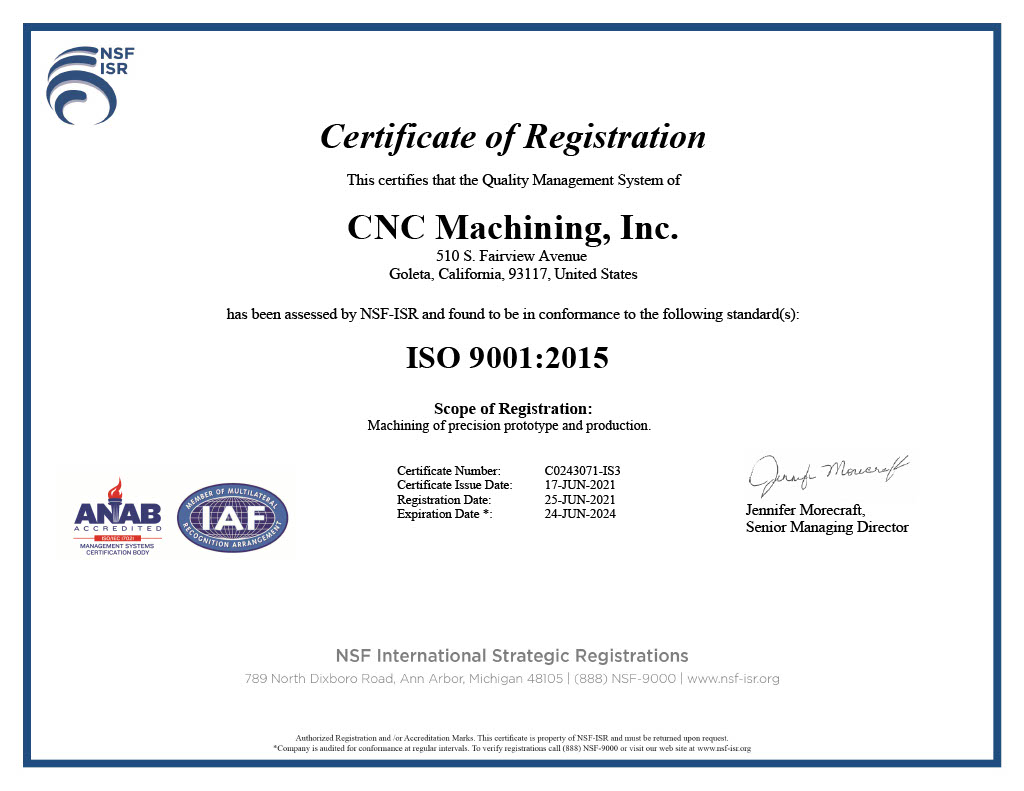 Quality Policy
CNC Machining, Inc. is committed to delivering quality service to meet or exceed customer expectations, including applicable legal requirements, and focusing on continued improvement in our processes. We accomplish this by monitoring our performance against our established objectives, identifying areas where we can improve our QMS and its processes, and through management commitment and employee training.
Vision / Values
To provide exceptional values and support to our customers, while continually improving in the industry.
Ethics – Produce a quality part that the customer can depend on at an affordable price.
Teamwork – The organization works together as a cohesive unit.
Quality – We ensure our products are manufactured and built to the highest standards without exception.
Customer Service – We produce quality parts on-time and address customer concerns thoroughly, professionally and in a timely manner.
Quality Information
With over thirty five years of experience, we have built a database of standards and procedures intended to maximize production and quality. CNC Machining has employed a continuous improvement philosophy while incorporating control systems. Our planning of production realization process includes: determination of requirements and quality objectives for products,development of required processed  and process documentation, and established product verification and validation programs. Our quality plan also defines requirements for records necessary to demonstrate process and product conformity.
Machining processes are controlled by:
– Manufacturing Worksheets: tailored to each customer specifically
– First Article and In-Process Inspection: production and inspection collaboration
– Final Inspection Report: furnished to each customer with product shipment
To request a copy of our ISO Certificate or Quality Manual,
 Email: office@cncmachining.com